A memoir at the completion of an academic year , an enterprise by the students of Grade 11, The Orio Confetti celebrates the Deens experiences in words and pictures. Aptly  called an explosion of creativity,it is a mix of funny and serious information about the various talents we have at our school.
Giving wings to thoughts and imagination. Orio Confetti is the showcase of many milestones-encapsulating achievements and activities,capturing poignant photo moments, illustrating skills of writing, this is a chronicle to be treasured!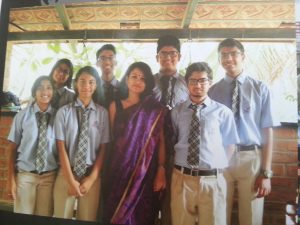 To empower students to construct an enterprise and create individuals who are equipped to independently deal with  challenges in life
-Deens Academy's vision – showcased in the creation of Orio Confetti.
"From writing to editing, to layout and design , the student editorial team is working hard to put this together.I congratulate the editorial team for giving life to this edition of Orio Confetti".
Shanthi Menon- Principal, Deens Academy